When life gives you Canada Day traffic…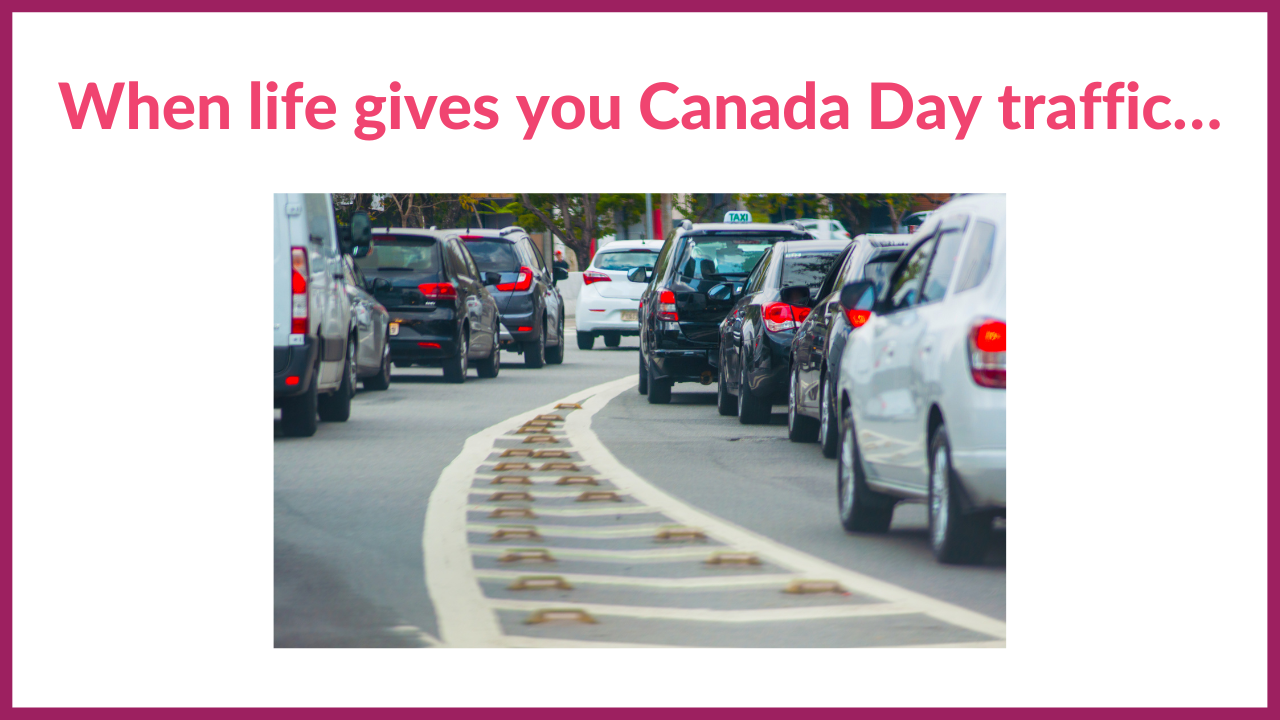 Ever since the days of yore when I was in the Stampede Band ColourGuard (you know, the girls - and occasional boy- who wave flags around in time to the marching band music), our family has headed out to the mountain town of Canmore for Canada Day. It's close to Banff so it's a spectacular venue for a parade and celebration.
We've missed a few years here and there but for the most part, that's the Canada Day plan, as it was this past weekend. (Here's a family photo from a few years ago.)
We decided not to partake in the pre-parade pancake breakfast this year so we headed out for the 45-minute-ish drive with the goal of arriving before noon in time to see the main event.
Since it was the first day of summer holidays, we found ourselves on the highway with a multitude of other people with similar plans. We didn't drive to Canmore so much as crawl. In fact, if there had been a toddler with great stamina walking beside our car, they probably would have arrived at about the same time as we did.
I'd say 45km/hour was our average speed (with the potential speed limit of 110km/hour).
Here's why the traffic didn't bother me one bit.
1- Highway driving isn't on my Top 5000 Favourite Things To Do List so 45km/hour was actually a very pleasant speed for me.
2- My husband drove my parents and son out in their car, so my daughter, Zoe, and I were in our car. We had the BEST time.
3- First we listened to a couple of musical versions of The Highwayman. We realized we knew a few key lines (thanks to the Anne of Green Gables TV miniseries from the 1980s) but didn't actually know what the poem was about.
4- Zoe searched up the poem and we did a little poetry study (and cried because it is so very sad).
5- Then we listened to another song about Bess, the landlord's daughter, the landlord's black-eyed daughter (one of the main characters in The Highwayman) from her point of view. We cried some more.
6- After exhausting The Highwayman possibilities, we listened to Dermot Kennedy, an Irish musician and singer/songwriter. We only knew and loved one of his songs (see the Song of the Week below) and decided to see if the rest of his music was as good. Oh. My. Goodness. The rest of his music IS as good and we fell in love. And we cried some more because it was just so moving.
We had so much fun together that we barely noticed it took almost two hours to reach our destination. The parade had already started but we managed to find a spot in the shade to catch the tail end.
After waving at the marching bands and people in old cars (aren't parades so weird?) we went out for some amazing Indian food. That was pretty much it so we headed back home, thankfully in less traffic.
Here's the note I put in my calendar for next July 1st.(Just in case we get Canada Day amnesia and think a repeat of this year's experience will be fun.)
However, I'm still grateful for the experience because of the wonderful time I had with Zoe discussing epic poetry, listening to music and connecting deeply.
And, get this! I searched up Dermot Kennedy's tour and it turns out he's coming to Calgary this October so we got ourselves some tickets. We are so excited and that never would have happened without the hoards of cars on the road to the mountains.
The Gifts
When things don't go according to plan, it's valuable to detach from what you thought was going to happen because the attachment is what creates suffering. As my husband often says, "Plans are only estimations of the future." Cultivating the ability to go with the flow opens us up to new adventures that we didn't even know were waiting to happen.
If you grumble or complain about what you thought was supposed to happen, it blocks out whatever good is trying to come your way. So here's my new saying. Feel free to use it whenever you like:
When life gives you Canada Day traffic, make light of it and sing a song as you crawl along.
Ok, so it's not as good as the lemon/lemonade saying but I still like it. It makes me think of that high-stamina toddler walking beside the car all the way to the mountains.
May you have a lovely week of going with the flow and being open to what life has in store.
With poetic love and fluid courage (not liquid courage),
Christina
>Creator of Courageous Self-Care
>Wishing you a Happy 4th of July if that's your celebration today!
>Favourite parade float ever: Polebridge Montana, an ode to mushrooms where some men inexplicably wore fairy wings, tights and mushroom hats.
We've been eating this dish a lot recently because it's pretty fast, it's quite easy, it's DELICIOUS and it's so good for you.
I didn't know what arepas were a few weeks ago but now I can't live without them.
This version is free of gluten, dairy, eggs, corn and soy, but it's not free of tastiness. You'll need some cassava flour (a new favourite of ours) and apart from that, it's pretty regular ingredients.
Added bonus: the kids like it too. Hooray!
Dermot Kennedy. Thanks to our very slow drive, Dermot has come into my life and I couldn't be happier. Here's the song that made me fall in love in the first place. I love how he creates relatable moments in his music. There's so much feeling, passion and storytelling.
Watch the So You Think You Can Dance piece to Rome that introduced us to this awesome musician. Plus, this is one of my favourite choreographed dances EVER!