Polar Opposites in the Canadian Rockies
Before the Rockies, one last friendly reminder that the 3/4 Year Review is coming up this Saturday - last chance to take a sacred pause, celebrate this year so far and get grounded and clear on how you intend for the last quarter to go. Details are below in the Christina Recommends section.
This summer, Paul, Oakley and I ventured into the wilds of Yoho National Park to one of our favourite campgrounds - Takakkaw Falls. We love this place for many reasons.
First off, it's the perfect blend of backcountry and car camping. The campground is about a 1km walk from the parking lot and there are wheelbarrows to transport one's belongings which means that it takes some effort to get there but not much. The campground itself is pretty remote - pit toilets and such but there is a solar-powered water filtering system and cook shelter with a wood-burning stove which makes it quite luxurious, as far as backcountry camping goes.
The bottom part of the campground is near a rocky floodplain and the epic waterfall is right there. It is spectacular - very awe-inspiring. It certainly drowns out any other noise as the water pounds its way down from glaciers to the river over 300 meters below. Apparently, it's the second-tallest waterfall in Canada. So there's your trivia for the day.
The second reason we love this location is because there is a breathtaking hike (in all ways possible) right out of the campground called the Iceline. It's about a 10-hour trek that climbs up even higher than the falls. One part is called Angel's Staircase and it really is like heaven up there.
(Sidenote: I'm writing this post in a cafe where Lord of the Rings is being projected onto the wall but it's silent. Instead, Latin music is serenading the café-goers. It's an unusual juxtaposition, to say the least - I don't quite know what to do with Gollum + a Latin version of Paradise City.)
Anyways… back to the hike.
As was the case for all of our camping/hiking adventures this summer, the forecast was "smoke". The day we set out, it was also predicting a bit of rain in the late afternoon, so we brought our gear.
The initial part of the Iceline is up - for about 2 hours. There are steep switchbacks that really get the heart pumping and then it tapers off to more of a gradual climb toward ancient glaciers. It can be challenging to wear the right layers when it's chilly outside but there is climbing involved, so you also don't want to overheat.
There's a phrase my husband likes to use: Be bold; Start cold. I'm not really a fan of starting cold (or being cold ever) so I had lots of layers on as we began the ascent. Not too soon after, I started de-layering. Then it started raining (about 8 hours early). Back on went the layers and up we went into the clouds.
Once we moved out of the foresty climb, we found ourselves in a huge rocky area with glaciers creeping imperceptibly down from the towering peaks. One of the things that makes this hike world-renowned is the views but on this day, they were shrouded. No matter, we decided.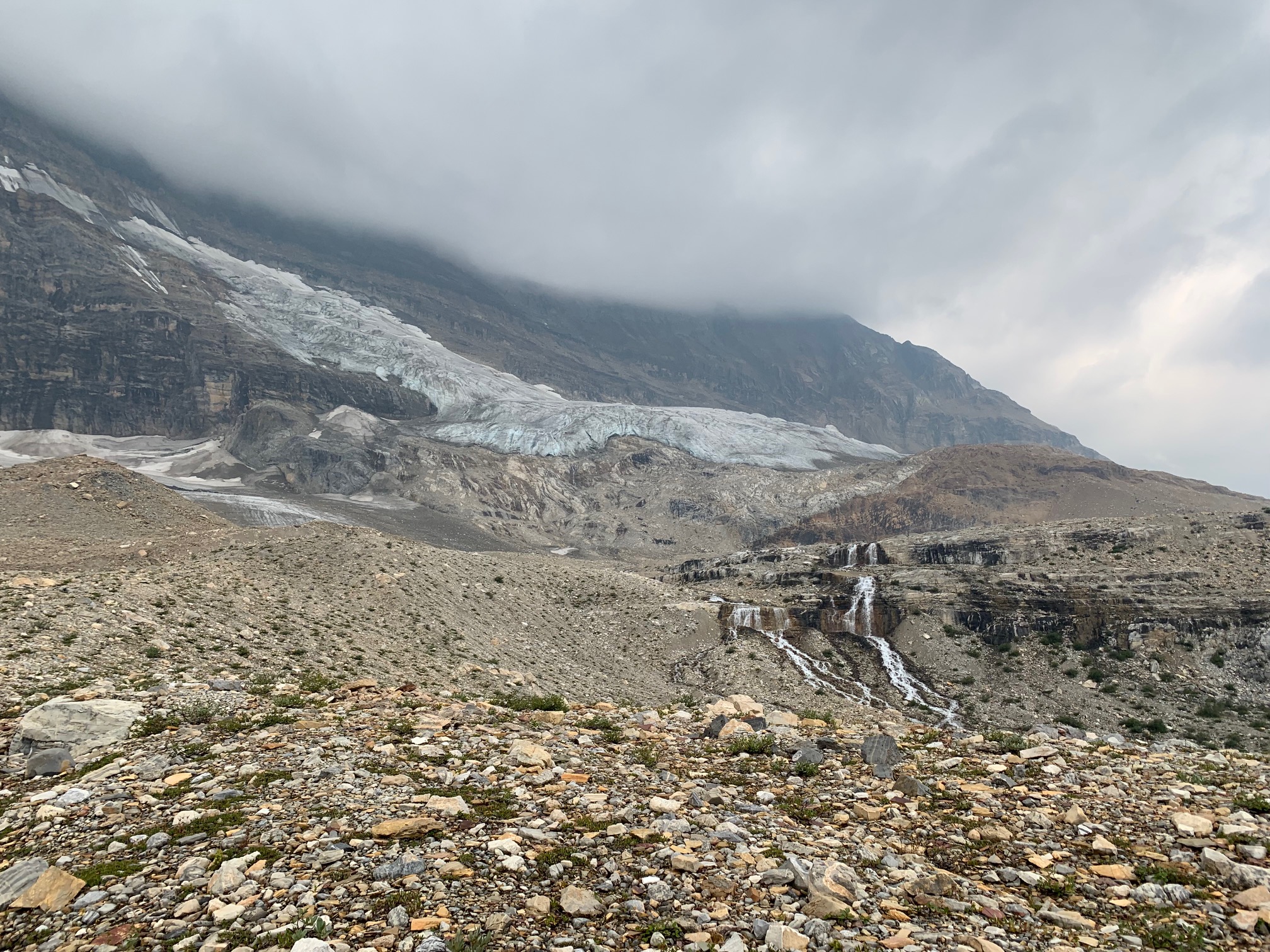 As we continued the climb, we met some people coming from the other direction. Paul said to them, "Wow! You must have gotten up early to be coming down already."
"No," they replied. "We're quitting. There's no views."
Once they were out of earshot, we had a little discussion about what they had said.
"I don't hike just for views," I told Oakley and Paul. "I hike because I love hiking and adventure."
Paul said, "I hike to feel connected to Spirit."
Oakley agreed. "I don't hike for views; I hike because it makes me feel strong and it's a great challenge."
A provocative conversation ensued and I reflected on how valuable it is to have people in my life who don't behave the way I behave or have the same values that I do.
When someone is so completely different, they help to clarify your own values. If I find myself saying, "I would never say that," or "I would never do that," I get a really grounded sense of feeling grateful for who I am and who I've decided to be.
So that's what you can do with people who seem really different. They are truly a gift to help you clarify your values and acknowledge yourself for who you are.
As we hiked, the rain started to taper off but then it said, "Just kidding!" and came on full force. We weren't quick enough with our rain gear and we got soaked to the bone. We persevered until we dropped back down into the forest but by that time, we were so cold that we couldn't feel our hands. When I took them off my hiking pole handles, they stayed in a disturbing but entertaining kind of claw formation.
Eating lunch was fun. Well, not quite fun, but funny. We shivered, tried to make our hands work, huddled under a tarp and squeezed together for warmth. Paul even lit a little fire. It was so tiny that it didn't do much for our physical state but I think it warmed our spirits.
I kept trying to remember how very hot I had been in Mexico in March. It sort of helped.
Oakley was a champ. He was just so grateful to be in the mountains on an adventure that he remained surprisingly chipper. After lunch, we carried on.
Many, many hours and steps later, we found ourselves going the wrong way. Somehow (thanks to my erroneous navigating), we were climbing again, even though our campground was definitely down and not up. Once we were certain that we had made an error, we turned around and retraced our steps.
As we descended, a lone hiker came into view.. She shrieked and jumped up and down with joy. "You're the first people I've seen ALL DAY!" she exclaimed. She was quite a sight. She had some wires coming out of one pocket - I assume her cellphone was being charged. In one hand she carried a styrofoam tray of deli meat (not something I would ever think to bring on any hike, let alone on a camping trip - but that's just me).
"Today has been so special," she shared with us, tears sparkling in her eyes. "There is something so magical about hiking on a rainy day." Her excitement and passion grew as she raved about her experience thus far.
"When I started out, the mountain peaks were hidden. Then, the clouds shifted, and all of a sudden, there they were! Then the fog closed in and they were gone. I've just been in tears so many times today, feeling so grateful for how memorable this hike is. Oh - I'm so glad I get to share it with you now!"
We agreed and Paul asked her where she was from. Turns out she was from New York and took annual trips to the Canadian Rockies for hiking and camping. Her enthusiasm was contagious as she continued.
"Of course, it's nice to hike on a sunny day, but there is something so memorable and magical about a rainy day. It's mystical. Surprises are around every corner."
We had a very connecting conversation with her and my heart opened wider. I had been enjoying the hike, for sure, but this woman's energy caused the experience to magnify and transform into something sacred. She was a total gift and such a counterfoil to the people we had seen at the beginning.
We ended up sharing hugs with her and as we parted ways, she looked back and said, "I'll never forget you!" What a gift. I feel the same way.
The Iceline took us way up into the sky and this special woman we met along the way elevated the experience to become divine and blessed. I feel like I wouldn't have felt the same way without our initial encounter with the less-like-minded people. They were their own blessing so that I could experience an even more profound gratitude later on.
Surprisingly, the rain didn't do much to clear away the smoke so the peaks remained concealed for the remainder of our trip. We packed up our wet gear the next day and I finally warmed up thanks to our beloved seat warmers in the car.
Of course, as I write this message, I'm cozy and dry and the physical discomfort of the hike has passed. What remains are the great gifts: connecting with my beloved husband and son, overcoming obstacles, "warming" up by the tiny one-flame-fire and laughing at our predicament, sharing energy and satisfying connection with the people we met along the way and the heartfelt gratitude that comes from being in nature and connecting with the divine.
With sincere love and intrepid courage,
Christina
>Creator of Courageous Self-Care
>Thrilled to be teaching live yoga classes at Yoga Santosha! Dreams do come true!
>So proud of Zoe who is doing her first art market as I write this. Here are some photos of her booth with all of her amazing creations.
Well, we're rounding the bend of 2023 (can you believe it?) and that means it's time for the creatively titled (drumroll) Courageous Self-Care 3/4 Year Review. (At least you know exactly what it is.)
If you feel like:
you're always on the go

that your life is very busy and stressful

there don't seem to be enough hours in the day

you kind of have that 'wind-blown look'
… then this workshop will help you get a handle on things.
One of the key teachings in Courageous Self-Care is to create a better relationship with time, and one way to do that is to look to the past with gratitude (rather than regret and doubt) and towards the future with anticipation and excitement (rather than fear and worry).
During this 90-ish minute done-with-you session, you'll get practical experience in honouring what has already happened so far this year, and then we'll set some intentions for the last quarter of 2023 so that you know what to do next.
We'll take a sacred pause to acknowledge ourselves and move into the last part of the year feeling reset, grounded, purposeful and aligned.
You can expect to leave the call with:
Increased clarity (so you can make plans that align with your values and thus feel more fulfilled - three cheers for feeling fulfilled!)

More energy (because we'll be doing fun things like dancing and celebrating)

A sense of refreshment (because we'll be taking a break from all the go-Go-

GO

!)

The realization that you've had more success than you gave yourself credit for (and it's always so good to be even more kind and gentle with yourself)
You'll feel so organized and proud of yourself for taking action toward the life you really want to be living.
The Details
Date: Saturday September 30
Time: 8am Pacific/ 9am Mountain/ 11am Eastern
Duration: 90ish wonderful minutes (possibly closer to 2 hours if we're really rockin' it)
Cost: $47
How to Join: click the registration link below and you'll get all the important details by email
3/4 Year Review Details and Registration
What you'll need for the session:
-journal and pen
-a nice drink (like hot lemon water)
-your calendar/planner
-some space to move (because we won't be sitting the whole time) (I'm adamantly opposed to 'numb bum')
-a candle to light if you feel so inclined
I'm really excited to share the powerful process with you (if it's a fit, of course). If you're like "Um, no" then you can trust it's not for you right now.
And if you're like "I would love to come but I'm already booked," then please register anyway and I'll send you a link to the recording. Because I'm nice like that.
In the olden days, before the pandemic, Paul and I went to a fantastic concert to hear the Hot Sardines. It was so fun. The music was so vibrant and joyful that there was dancing in the aisles. Dancing in the aisles, I tell you! We were some of those dancers.
I adore their music. It's kind of old-fashioned in a roaring 20s kind of way. This particular song is on the slower side and it's in french, which makes it super-cool and romantic. Take a little time trip into the past - about a century ago - and revel in this awesomeness.
Listen to Petite Fleur on Spotify
Listen to Petite Fleur on iTunes