Graduation Musings, An Ode to my Neti Pot & a Fabulous Song
It was another significant week in the Marlett household. The primary theme for the past few days was: Graduation!
Zoe, who turned 18 a couple of weeks ago, went and decided to also throw in a graduation to the mix for good measure, just to get as many milestones into one month as possible.
Although, technically, there's still another month of school including final exams, graduation ceremonies are usually held in May in Calgary, most likely due to venue bookings.
Having a child (almost) complete high school causes one to reflect.
Here are a few musings that floated across my recent awareness.
Rituals
As a culture, we have very few rituals remaining, which is a shame because the brain absolutely needs ritual in order to adjust to significant changes.
Zoe wasn't thrilled to be going to a 4-hour graduation ceremony to watch some 700 students she didn't know walk across the stage to get their diplomas. Frankly, we felt the same way. However, we conveyed that the ritual aspect of it was very important and so it was still valuable to go.
We also agreed with her that some sort of change would be benficial for this type of celebration because overall, it was devoid of meaning. It felt rather empty. Most of the speeches contained platitudes and lacked connection. It was almost as though the speakers weren't aware that their audience consisted of teenagers.
Celebration or Festival of Rules?
We also found it interesting that the preparations for the students consisted mostly of rules.
You have to stay in your seat for the entire time.
You can't get up to use the washroom. (For four hours!)
You can't leave the event until everyone is done.
You can't bring water with you. (For four hours!)
You can't bring snacks with you.
You can't wear high heels. (Zoe opted for combat boots.)
You can't have your cell phone.
Most of our arrangements at home consisted of brainstorming ways for Zoe to covertly bring snacks and water. Our best idea was to wear her new fitted black skirt that would be tight enough to slide snacks down the front where they would be camouflaged by the grad gown. We also came up with the idea of wearing a camelback hydration system.
Sadly, she didn't follow through with any of the great ideas, but we were very proud of her when she got up to go to the bathroom. Teaching people to ignore their bodies' needs is a questionable practice in my eyes.
We all survived the ceremony (it was a great time to do a lot of central channel breathing!) and that was that.
On the plus side, the students were invited to decorate their mortar board hats and along with approximately 5 other students, Zoe took on the challenge. It made her easy to spot from above!
A few days later, it was time for the graduation banquet (or prom as some of you may know it).
What Makes a Celebration?
For some mysterious reason, there were still classes being held that day (another golden opportunity for change) but we packed as much fun in as possible.
I took Zoe to get her hair done in the morning. She had made a beautiful hairpiece that looked fabulous in her updo. Then she went to a garden party (which is apparently a thing now on graduation banquet day). Next she got her makeup done and my favourite part of that experience was when Zoe saw herself in the mirror once her look was complete and exclaimed, "I look so pretty! I love it!" As a mom, could there be anything better than having a daughter be delighted with how she looks and feeling good in her own skin? No, I think not.
She donned her fabulous dress that we had purchased in Paris last October and the look was complete.
Back at home we took all the permutations and combinations of family photos possible in our new garden and away we went to the event.
As you're likely aware, a very common way of celebrating is with food, toasts and dancing. It's another form of ritual. Fortunately, this affair was much more fun than the ceremony.
My favourite part of the evening was the dance. I didn't know what to expect and was thrilled when the dance floor was absolutely packed. My eyes glistened with tears of happiness. I was so moved by the embodied joy of people from all different cultures dancing together. I can't remember the last time I was on a crowded dance floor. It was heavenly.
While Zoe enjoyed dancing with her friends, Paul, Oakley and I danced together for hours. It was one of the first times Oakley really got to experience what a great dance is like.
Dancing often conveys what words cannot. When we finally left the dance floor at the end of the night with sore feet and glistening skin, it felt like something special had happened. We all agreed that it was magical.
When Spirit Speaks through People
The (organic and not concerningly fluorescent red maraschino) cherry on top of the evening happened as we made our way out of the venue. An older gentleman who worked there stopped Zoe and her girlfriend and told them that out of all of the hundreds of dresses he saw that evening, theirs were the most unique and beautiful.
When people utter such nice words, I consider it to be the Divine speaking through someone. He certainly didn't have to say something so complimentary. He didn't need to say anything at all, but he did and the girls left with an extra sparkle thanks to his kindess.
The next time someone says something lovely to you, if you can hear it with your ears attuned to the love of Spirit, it makes it even more profound.
Perhaps you'd like to see some photos. Here they are!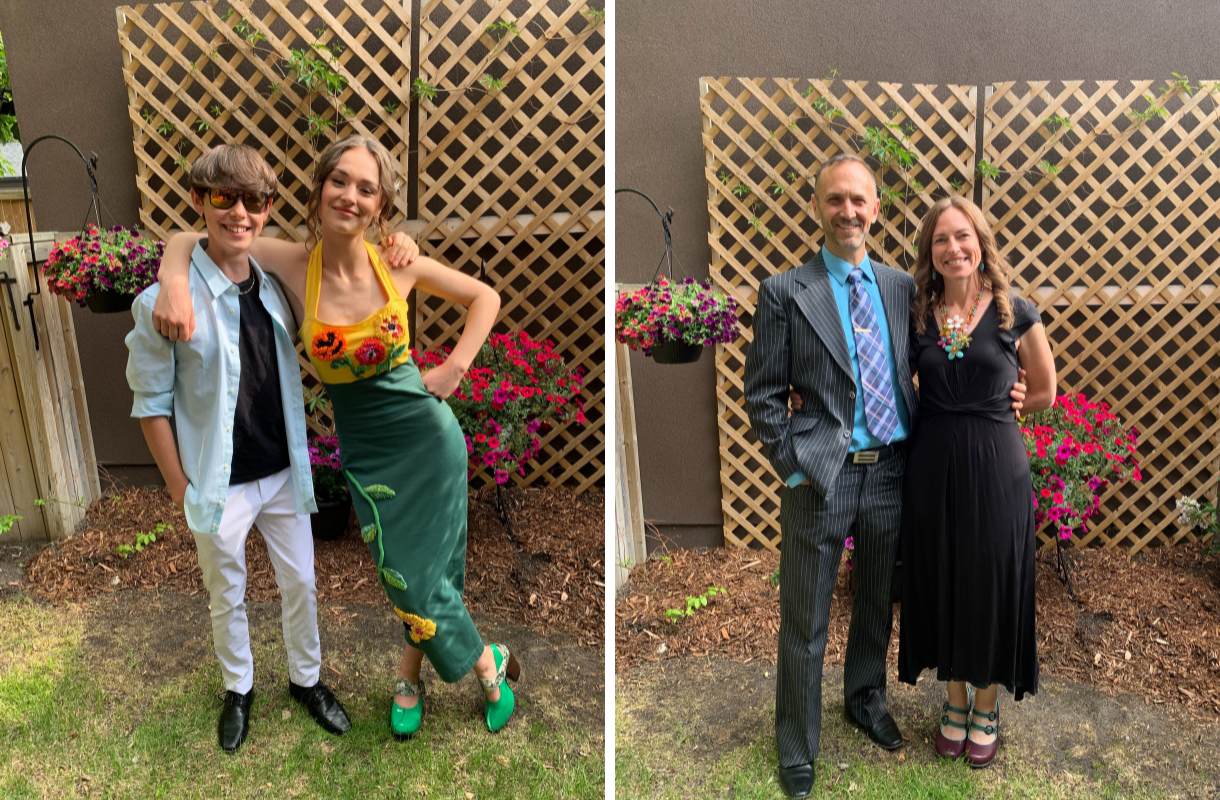 And here's a spectacular candid. It's Zoe's and Oakley's favourite photo of the day.
Later this week, Zoe is going to attend a completely different kind of ceremony. Because Paul has a Métis heritage, Zoe's been invited to the Indigenous Students' graduation. Just from the description, it sounds so different. There is to be an exchange of gifts, individual recognition, traditional dress and an address by the Elders. We'll see how that goes. Paul and I have a feeling that Zoe will get to experience the meaning that she was seeking from the other ceremonies. I'll keep you posted! Exciting times!
To wrap it up, let's just cover what this all has to do with Courageous Self-Care.
Planning for and incorporating meaningful rituals into your life is very important, especially when something is being completed

You can make up your own rituals so that they feel fulfilling to you

Dance often conveys what words cannot; do it often

When you look in the mirror, look with eyes of love

When someone says something nice to you, know that it's both them and Spirit showing you how deeply you are loved and valued
May you have a week that's filled with celebrations big and small.
With divine love and stunning courage,
Christina
>Creator of Courageous Self-Care
>revelling in how worth it was to get the grad dress in Paris
>planning our own graduation ritual once school is really done; it will likely involve fire!
PS - Last day to access the dozens of yoga class replays is May 31st. Moving forward, Yoga for Divine Alignment will be offered two Friday mornings and one Saturday morning each month. To get more info, continue on or register click here.
An Ode to my Neti Pot (Please read with a British accent for ultimate enjoyment)
Oh, Neti Pot!
Such a loyal friend as you I have never known.
Your lines are so elegant. Like a little white cheery teapot that will never serve a comforting beverage. Instead, what you pour has a much more noble (if not regal) purpose.
Even though I stick you up my nose once or twice a day, you're always there for me, resting in the crook of my hand, ready to rise (and tilt) to the challenge over and over and over again. You transform the arid desert into a humid tropical paradise.
Beloved salt that cleanses my nasal cavity, I do love and honour thee. Throughout the ages, you have known such prestige and yet you are humble enough to circulate up and down and out my proboscis from one side to the other.
Trusty baking soda that I add for good purifying measure, the way you dance through my sinuses would delight even the dourest of cynics.
Filtered water that provides the basis for the solution - oh! - what a journey you take. Through my tap, into the pot, up one dark cavity and down another, returning to pipes and then who knows where. Truly your mission is one of the highest possible deeds.
At times, even after a good shake, the trinity of salt, baking soda and water lights a fire behind my eyeballs, causing tears of joy to rain down upon my face as the stream cascades out of my snout. However, it is all in the name of clear nostrils and so, it is worth the burn a thousand times and more.
Oh! Neti Pot.
You are a bright light that I can rely upon both morning and evening.
Should I feel a tickle in my throat, I turn to you and you deliver optimal health, every single time.
Should I wake up with a crusty wall built up inside the nasal passage, you clear it out like a herd of wild horses with one singular purpose.
And let us not forget the good deeds of oil of sesame (not the food but the carrier kind). Once Neti has done the brunt of the work, I dip my dainty pinky finger into your oily goodness and lubricate each nostril, inhaling deeply to spread your golden joy upward. No germ or microbe stands a chance once you've done your work.
What a team that resides in my bathroom cupboard. Alone, you do indeed inspire, but together, you provide a victory in my olfactory organ that brings me the greatest of joys.
Neti Pot and friends - huzzah and three cheers for the musketeers of the Sinonasal region! May more and more people discover your cathartic wonders.
To order your very own Neti Pot, click this link:
This song! I sometimes go through phases where I get obsessed with a certain song and listen to it over and over. This is one of them. For a few weeks last year, whenever my kids would get into the car they would roll their eyes and say, "This song again?!?"
And there I'd be, trying to harmonize as I wept, totally overcome by the musical beauty.
I love the lyrics, I love the harmonies, I love the tune, I love everything about it. It just makes me feel so many things.
It's called Beyond the Wild and it's by the Brothers Koren who are two remarkable, lovely human beings. (They're very nice to look at too!)
Click here to listen to Beyond the Wild on iTunes
Click here to listen to Beyond the Wild on Spotify